Gaza violence: Thousands attend funeral for Palestinian medic
Thousands of Palestinians have attended the funeral in Gaza of a volunteer medic who was killed by Israeli fire during protests along the border on Friday.
Razan al-Najar, 21, was shot dead as she ran towards the border fence in southern Gaza to help a casualty, Palestinian health officials said.
In a statement the Israeli military said it would investigate her death.
The incident follows weeks of deadly violence on the Gaza-Israel border.
More than 100 Palestinians have been killed by Israeli forces amid protests in support of the declared right of Palestinian refugees to return to their ancestral homes in what is now Israel.
Israel says its soldiers have only opened fire on people trying to break through the border under cover of protests, and has blamed the group Hamas for orchestrating the violence.
UN and human right officials, however, have accused Israel of using disproportionate force.
At Saturday's funeral procession, Razan al-Najar's body was carried through the streets of Gaza wrapped in a Palestinian flag.
Her father carried her blood-stained medical jacket, while other mourners demanded revenge.
The Palestinian Medical Relief Society said Ms Najar had been trying to reach an injured protester when she was shot near the city of Khan Younis.
"Shooting at medical personnel is a war crime under the Geneva conventions," it said in a statement.
The UN envoy for the Middle East, Nickolay Mladenov, tweeted that Israel needed to calibrate its use of force and Hamas needed to prevent incidents at the border.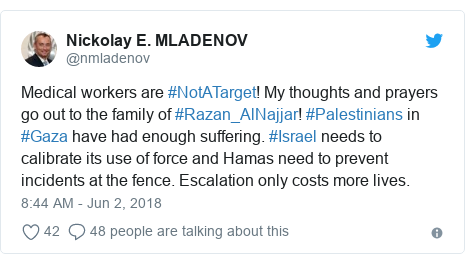 Israel's military said its troops along the border had been attacked by militants with gunfire and a grenade on Friday.
It said in a written statement that it would investigate the death of Ms Najar.
"The IDF (Israel Defence Forces) constantly works to draw operational lessons and reduce the number of casualties in the area of the Gaza Strip security fence. Unfortunately, the Hamas terror organisation deliberately and methodically places civilians in danger," it said.
At the UN on Friday, Israel's close ally, the US, vetoed a Kuwaiti-drafted Security Council resolution condemning Israel's use of force against Palestinians.
It drafted its own resolution that blamed Hamas for the violence and upheld Israel's right to self defence, but the draft failed to win any support in the 15-member council.
Earlier this week, the International Committee of the Red Cross (ICRC) said it was sending two surgical teams to Gaza to help with an "unprecedented" health crisis.
A spokesman said hundreds of people required treatment for live ammunition wounds and that the local healthcare system was "stressed and overburdened".