'Opportunities missed' by trust before Poundland attack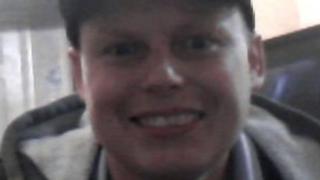 A coroner has criticised an NHS trust over how it treated a schizophrenic drug addict who stabbed a man to death in a Poundland store.
Trevor Joyce attacked Justin Skrebowski with a knife from the shop in Abingdon, Oxfordshire, in December 2015.
Oxfordshire Coroner Darren Salter said important information about Joyce was not passed to police.
Mr Skrebowski's widow said her husband "paid with his life" because of failings in Joyce's care.
In a statement Oxford Health NHS Foundation Trust apologised and said it had implemented a number of changes after a review of the case.
Four days before the murder Joyce told a psychiatrist he had wanted to stab customers in Poundland, but this was not shared with the police.
Mr Salter said this was a contributory factor towards "possible causative failings" which led to the stabbing.
'Missed opportunities'
In October 2015 Joyce was also voluntarily admitted to Littlemore Mental Health Centre after he placed a death threat through his neighbour's door.
After a five-day inquest at Oxford Coroner's Court Mr Salter recorded a narrative verdict and referred to "missed opportunities" by the trust.
He added: "There was a lost opportunity to conduct a multi-disciplinary assessment… which might have led to a different management plan, with greater involvement from the drug and alcohol services, the police and family."
But Mr Salter said only remanding Joyce in custody could have prevented the stabbing, and the trust was not at fault for this not having been the case.
Mr Skrebowski's wife Gulsen Alkan said: "If it hadn't been Justin, it would have been someone else. Justin paid with his life and we will bear the loss of these failures."
An Oxford Health spokesman said: "There were actions that could have been better performed in this case, and for those we are sorry.
"Following Mr Skrebowski's tragic death, the trust has undertaken a review of our services and implemented a number of changes based on our own review."
In 2016, Joyce was jailed for life after pleading guilty to manslaughter.